Katie Comics!
Welp, it's time for my annual Camp Comics blog post! Thank you all for continuing to read the Camp comic and I'm sorry that this News page became such a wasteland. I know I've said it before, but at some point I would really like this to become a more prominent aspect of the Camp Weedonwantcha experience!
But today I wanted to talk about something new that I just started: a weekly journal-style comic called Katie Comics!
Committing to doing another comic a week seemed like a lot to take on at first, but doing little personal comics is actually pretty therapeutic. I spend a lot of time hunched over, staring into a computer screen, but I can make these little journal comics anywhere, since I'll be doing most of them in my sketchbooks and notebooks (and sometimes post-its if that's what I've got lying around). And working loosely with pen and marker makes it so I can't stress over drawings not being perfect, and instead can concentrate on just getting whatever weird thing I'm thinking about out of my head and onto paper.
I hope you like the new comics! And if you're interested in getting early access to them, you can check out my new Patreon.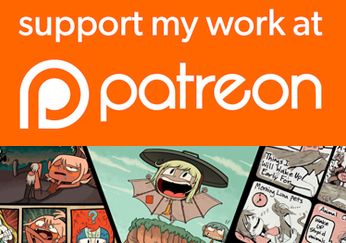 Thanks everybody!