PAX Prime 2015
It's that time of year again. PAX Prime is this weekend and Camp Weedonwantcha will be there!
We'll be there all four days (August 28 - 31) in Bandland which, this year, is on the 6th floor, at the top of that big escalator across from the Main Merch Booth.
We've got a new Pinny Arcade pin that'll be making its debut at Prime.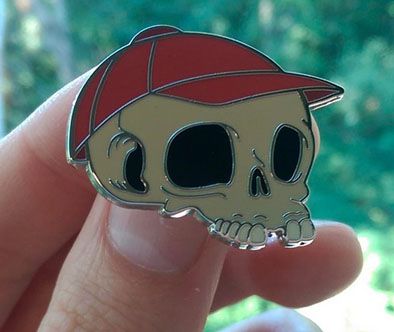 It's the skull that was originally featured on the very first Camp Weedonwantcha t-shirt, and eventually made its way into the deep deep woods.
We'll also have our old pins. Purdy, the Campers, and maybe even some of our Box of Cats pins. We're running pretty low on those last two, so if you've been waiting to pick one up, now might be the time. Once they're all sold out they'll be gone foreeeeevvvveeeeeeer!
For any of you who backed our Kickstarter at a pin level, you can also swing by the table and pick up your Darkplace Brian pin (or pins, if you added a second pin onto your order)! And if you pledged at a level that rewarded you a Camp Weedonwantcha tote bag, you can pick that up as well!
Even if you're not at all interested in Weedonwantcha Wares, we hope you'll at least stop by and say hello. Seeing everybody is by far the best part of PAX!
Hope to see you there!