Introducing your new best friend, Adam!
Hello Camp W readers! The comic's been updating a while now, so I think I'm a little overdue in introducing you to Adam Wallander, my best friend and partner, and co-writer for Camp W.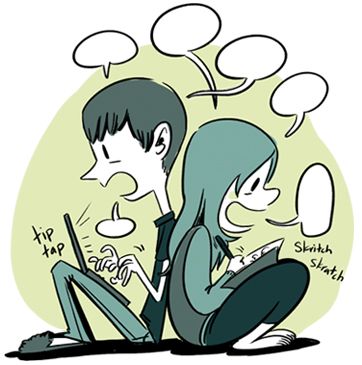 After winning Strip Search with Camp W, I discovered that this comic wasn't going to be as easy to write as I first imagined. It needed a more solid mythology and fleshing out and lots of little questions figured out before it could go public. I was in over my head, but Adam stepped in and helped me to figure out what this comic needed to be, writing jokes and helping to flesh out characters that were too one-dimensional.
It's a pretty cool thing to find someone you can work with. I tend to think visually. My writing style usually consists of seeing something funny or dramatic in my head, drawing it, and then trying to figure out a story to go around it. Adam's got a natural ability for storytelling and writing jokes, and I think the two of us as a team makes it not only more fun to work on, but a better comic in general.
Sitting down to write this has put a lot of ideas in my head for things I'd like to write about here eventually. More about where the characters' personalities came from, the process Adam and I use to get a comic done from start to finish, and more. I hope you'll come back to read them!
Also, Adam will be with me at Emerald City and PAX, so come and say hi.
...if you want to.